We always get the showers in April and the may flowers are bound to follow.
Here are a few key steps my masters do to make sure there are veggies o' plenty for the year.
When it comes to gardening you need a plan, starting off with what you are going to be growing your garden in! My masters go to is using Tarter Stock tanks for a raised garden. They love how easy it is to start planting and there is way less prep work versus traditional garden boxes.
The next step and the most important is soil. Although I don't think it was all that fair that they get to play in the dirt and when I do it, they don't like it.  Every year we make sure our plants have the best nutrients in the soil. When we first started our raised garden beds my master brought in so Growers Blend (recommended for gardens) and for all the flowers they brought in Planters Mix (recommended for general planting). These days we normally just add extra nutrients soil with Organic compost (amendment).
The last step is making sure those veggies and flowers are protected. This can be done by adding a shredded bark on top. This helps with pests, weed, and retaining moisture to keep the plants cool all summer long.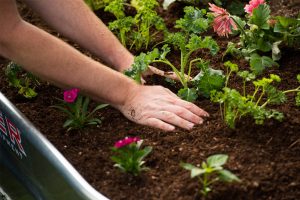 As always the staff at Valley Rock is always there to help with finding the amount of product you need!